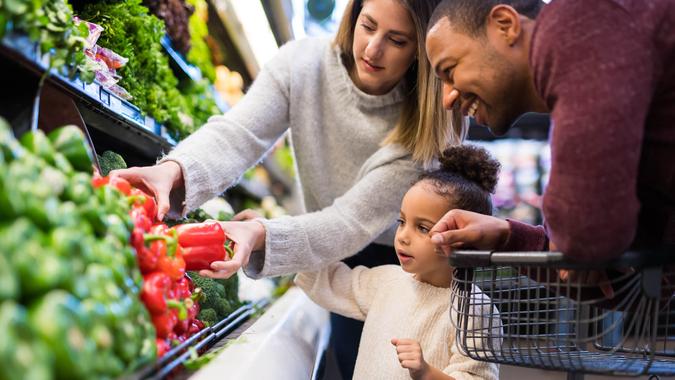 FatCamera / Getty Images/iStockphoto
Keeping your grocery spending to $99 a month or less might seem impossible, but there are a few tricks to ensure your trips to the store only cost you $25 a week on average. By looking for deals both at the store and local businesses, and getting crafty about buying in bulk, you can keep your time and money spent in grocery stores relatively low.
Find Out: Explore the Cost of Education in the United States
Follow Along: 31 Days of Living Richer
Switch to a Discount Grocery Store
Look for stores like Grocery Outlet and Aldi near you and start shopping there. Discount stores often don't carry brand names and tend to have a smaller selection than bigger name stores, but restocking takes less time and you can find all the basics, like fruit. Reports have found that fruit such as melons can cost as much as $3 less a piece at Aldi versus a neighborhood grocery store.
Learn: The Most Genius Way to Save Money on Groceries Next Year
Buy in Bulk
This might seem counterintuitive, since you have to spend more upfront, but buying in bulk saves you from having to spend money later in the month. For example, if you tend to make a lot of sandwiches with lunch meat, consider buying a full ham, turkey, or chicken and slicing it up instead. You can freeze what you don't use right away, which guarantees you won't have to buy meat next time you're at the store. You can also apply this thinking to items like butter, which might cost you $5 a pound at the grocery store, or $11 for 4 pounds if you buy at Costco. Though the membership stores have a yearly fee, the savings might be worth it. 
Check Out: Shopping Mistakes You're Making and How To Stop
Become a Coupon Guru
Instead of ditching the weekly ads filled with coupons that arrive in your mailbox without a look, it's time to start clipping them. But that doesn't mean you have to act like someone from "Extreme Couponing." It just means you should seek out coupons for items you actually need, because scoring discounts is only useful if the items are practical. Ten cases of grape soda, for example, won't benefit your life in any way. Many grocery and warehouse stores like Costco offer a slew of samples one or more days per week. Aside from getting a free snack, the person passing out samples will also have a stack of coupons on-hand for those who like the product, so don't miss this opportunity to save money if you sample something you'd like to buy.
Think About This: 15 Times You Should Splurge, Settle or Skip When Shopping
Go For Cheap Meals
A 3-ounce, 12-pack of chicken or beef flavored Nissin Top Ramen costs $2.38 at Walmart — a price you're probably not going to beat. Cheap meals don't have to be tasteless though, so mix your 19-cent pack of ramen with cheese, Sriracha, peanut butter, soy sauce, beans, frozen vegetables, Thai curry paste, eggs or a cheap cut of meat for a tasty and nearly balanced meal.
Save Your Money: 11 Things You Should Never Buy New
Check Expiration Dates
While you should never eat something that's going to make you sick, you might be surprised at how often meats and vegetables go on sale just as they're expiring. Andrea Woroch, a consumer and money-saving expert, recommended Allrecipes.com for when you're stumped on what to cook. The site allows you to plug in random items to make something out of whatever foods are in your fridge. 
Another way you can make sure you have double the food without doubling the cost is simply doubling the recipe. Many times, you have leftover ingredients by just making one serving of something, so double the recipe so you use all your ingredients have a second helping to save as leftovers.
More From GOBankingRates
Laura Woods and Megan Craig contributed to the reporting for this article.
Last updated: Oct. 8, 2021
Source link